Gloria Dei Women's Ministry
The Mission of Gloria Dei Women's Ministry is to encourage spiritual growth and to develop lasting friendships among the women of Gloria Dei. The Women of Gloria Dei meet for large gatherings, retreats, Bible study, friendship events, movie nights, comedy nights, games, and much, much more. Usually, there is something every month. Please watch the monthly newsletter, the Sunday bulletin, and patio signs for dates and more information.
Upcoming Events
Women's Tea:
Originally scheduled for Saturday, April 25, will be postponed until later in the spring or summer.
Save the Date: Friday, May 8
, 6:00pm – 8:00pm:
Women's Wine and Paint Night. This event will take place in Bankson Hall. More details to come. Cost: $35.
Due to the Covid Pandemic, many events are being changed and adjusted. Please keep checking the Newsletter or Sunday morning bulletin or call the Church office for more information.
Group Picture from the Succulent Planting Party: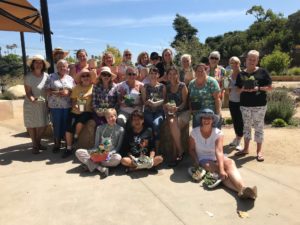 Women's Book Group meets regularly on Tuesdays for discussion on a preselected book (dessert and fellowship included!). Meeting time is 7:00pm. Questions, call the church office (949) 493-3414.