December 24, 2018 – Christmas Eve
4:00pm Worship Service
Candlelight family service with carols and Instrumental music

Children's Choir

Childcare provided.
5:30pm Worship Service
Candlelight service with carols and instrumental music

Sanctuary (Adults) Choir, Bell Choir, special music

Childcare provided.
11:00pm Worship Service
Holy Communion and Candlelight

Carols, special music, and more.

There will be no Christmas Day worship services.
ADVENT 2018 – 2019 "ART AND FAITH"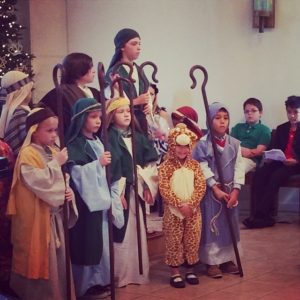 Substance over fluff. Joy over diversion. Carols over muzak. Breath over worry. Patience over pressure. Laughter over cynicism. Love over hate. Life over death.
For the seasons of Advent and Christmas, not only will we sing the well-known carols, hear the timeless scripture lessons, listen to timeless music, light the Advent candles, but each Sunday, we focus on a wonderful piece of art (with video commentary) reflecting the scripture of the day.
The Sanctuary Choir will be offering a "Lessons and Carols" Service on Sunday, December 16 at morning services. It will be an uplifting change.
Christmas Eve Service times will be 4pm, 5:30pm, and 11pm. All the services will be candlelight. Childcare will be offered at the two early services. Holy Communion will be celebrated at the 11pm service.
December 9, 2018 – Women's Christmas Cookie Exchange
Please bring 3 dozen cookies of one kind of cookie to exchange and go home with 2 dozen of a variety of Christmas cookies. One dozen of the cookies each person brings, will be delivered to the Military Wives. Sign up at the Christmas cookie table after Sunday services.
December 9, 2018 – CHILDREN'S CHRISTMAS PROGRAMS at 10:30am Gloria Dei Sunday School, Youth & Confirmands will perform.
December 16, 5pm, the Gloria Dei Preschool will have their Christmas Program.
December 2, 2018 – CHRISTMAS CAROLING, 4pm is our annual Christmas Caroling excursion to various Assisted Living communities in the area. Following caroling we will gather to eat pizza back at the church. Maps and locations will be available prior to the event.