ART MINISTRY AT GLORIA DEI
ART AND OUTREACH MINISTER MICHELLE LUM
leads a monthly gathering of creatives, artists, and people who love art –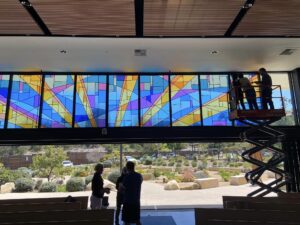 Gloria Dei Art M
inistry – 2nd Fridays of the month at 6:30pm in Bankson Hall.
Join our email newsletter (click here) for information on current events and projects. Information also posted to the church newsletter and bulletin and you can contact Michelle – miche
llelum@mygloriadei.org.
ART INSTALLATION
–
A New Day Dawns
was hanging in the back windows of the sanctuar

y for the Season of Easter 2023. Thanks to
Arts and Outreach Minister Michelle Lum and all
the volunteers who helped with this new work.
WATCH for the next Art Installation coming in winter 2023 and in 2024.
the Twelve Tribes by Hyatt Moore.
(acrylic and oil on canvas)
Depicted (from left) are: Crow of Montana, Berber of North Africa, Masai of Kenya, China, Ecuador, Afghanistan, Jesus, Ethiopia, Tzeltal of Mexico, Canela of Brazil, Papua New Guinea, Salish of British Columbia, Mongolia.
This painting hangs in the Sanctuary. For a fuller description, click on the painting to hear the artist describe this beautiful work.