SERVING OTHERS THROUGH GLORIA DEI
We Care Ministry

–

This "hands on" helping ministry works in the following areas: preparing and bringing meals to people in need; preparing sack lunches for homeless; providing rides for people to doctor appointments and other locations; and several other areas. If you would like more information or to assist, please contact the church office.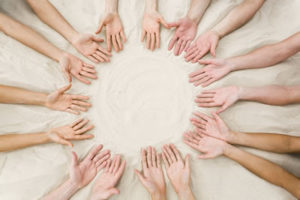 Habitat for Humanity

–

"The Excitement is Building." Gloria Dei is a "Covenant" church with Habitat for Humanity. A Covenant Church means three things: We provide financial support to this housing ministry; We recognize this ministry during worship one time per year; and finally, we provide volunteers at the job site. If you have questions, call the church office for more information.
Missionaries

–

Gloria Dei supports a missionary. We are blessed to support her financially in this important work and look forward to visiting with her in person while she is on home-leave. If you would like to communicate with her via email, please contact the church office. Because of the sensitivity of the area she serves, we do not post her name.
Special Worship for Loved Ones with Alzheimer's and Related Disorders

.
Several times each year, the Wednesday Women's Bible study group organizes a worship service for many homes/facilities in the Dana Point area. Following a short service, refreshments are served. If you would like to assist with this ministry or to find out more information, contact the church office.
Support Groups

–

On a regular basis, Gloria Dei offers various support groups including group dealing with divorce, grief, parenting, etc. Please watch the newsletter and bulletin for upcoming groups.
Community Help Groups

–

Gloria Dei supports many outside groups including: Alcoholics Anonymous, Alanon, and others. Please contact the office for a schedule.
Los Angelitos Orphanage

–

Gloria Dei regularly sends down volunteers to help, feed, build, have fun at this orphanage outside of Tijuana. Watch the newsletter for more details about upcoming trips. Recently, we constructed we a new commercial kitchen for them.
Serra's Pantry –

On the third Saturday of every month, Gloria Dei volunteers help at Serra's Pantry in San Juan Capistrano. They pick up food at local grocery stores and they help organize and serve at the panty. If you are interested in this ministry, please call the church office.
South Coast Literary Council
–
Free English as a second language (ESL) classes held every week at Gloria Dei. Click here for all the details.
Other Opportunities to Serve: Global Mission (Missionaries in Cameroon—Financial Support, Cards/Letters, assist with Mission Festival, Care Packages, each year women send HIV-red ribbons.); Corazon de Vida – bus trip that takes groups to work in Mexico and supports 8 orphanages in Tijuana; Youth Summer Mission Trip – each summer, the focus of our high school youth group is a large summer trip to such places as Washington D.C., Puerto Rico, Alaska, Navajo Reservation, Belize, etc.; Shoes that Fit – collect shoes and provide them to a local school for children with needs; Lutheran World Relief – World Hunger (Offerings during Lent/Easter and Thanksgiving); Project Linus—Blankets; New Life Band – financially supported this group whose mission is to build schools in Tanzania; Helping Hands – Meals/rides/assistance for members who are shut-in; Casa Hogar Sion – Backpacks for Mexico Orphanage (72 total.); Families Forward – collect food/stock shelves; Christmas gifts (each December) (Collected food through Lent collected on Palm Sunday) (Continuous financial support.); Homeless sack lunches (Peggy Johnson and other volunteers pack lunches as needed. Several times/year.); Blood Drives (twice/year.); Loaves and Fishes – this feeding program in Santa Ana is supported by volunteers on an occasional basis; Quilting Group – meets monthly to make quilts for newly baptized children and others individuals and agencies; Union Rescue Mission; Honduras Mission Trip; Serra's Pantry (3rd Saturday of every month).