The Season of Epiphany begins on January 6 and runs until Ash Wednesday (January/February). The word Epiphany means "manifestation" or "revealing." We focus on how God reveals His light, hope, and love through Jesus.
The Epiphany Season 2024 b
eginning with the Magi/Wisemen's dream of a child, to the Baptism of Jesus, to MLK's "I've got a dream…" speech, to the mountain top experience of the Transfiguration story, God continues to cause people to dream of hope, and experience God's gracious light.
We will also be looking at the LITURGY – that is, the way we worship in the Lutheran tradition. Liturgy comes from a greek word meaning "work of the people." Come and learn how the liturgy and the Scripture that is sung can inspire our everyday living.
Please join us as we begin a new year and seek God's guiding and empowering presence.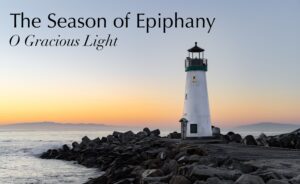 OTHER
UPCOMING EVENTS IN EPIPHANY…
SUNDAY SCHOOL
(Age 4 – 5th grade/8:30am & 10am service) –
Sunday school is on Christmas break & will resume next Sunday, January 8, 2023.
CONFIRMATION (Middle School)
– resumes next Sunday, January 8, 11:15am with class & lunch.
WOMEN'S WEDNESDAY BIBLE STUDY
meets every Wednesday, 10am.
MEMBERSHIP AT GLORIA DEI
– New members will be received on January 29, 2023 during worship.
GLORIA DEI ART MINISTRY
— 2nd Friday monthly at 6:30pm in Bankson Hall
.
MEN'S BREAKFAST BIBLE STUDY
– Saturday, February 11, 8am, Bankson Hall. All men are invited!
ANNUAL MEETING CELEBRATION (Feb. 5, 11:15am)