The Season of Epiphany begins on January 6 and runs until Ash Wednesday (January/February). The word Epiphany means "manifestation" or "revealing." We focus on how God reveals His light, hope, and love through Jesus.
The Epiphany Season 2022 theme is
"FOLLOWING THE LIGHT"
– Beginning with the Magi/Wisemen's dream of a child, to MLK's "I've got a dream…" speech, to the mountain top experience of the Transfiguration story, God continues to cause people to dream of hope, justice, and life. Please join us as we begin a new year and seek God's guiding and empowering presence.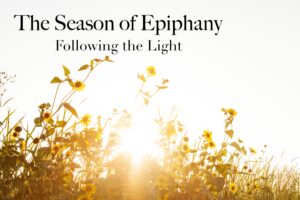 OTHER
UPCOMING EVENTS IN EPIPHANY…
MINISTRY CELEBRATION – ANNUAL MEETING – January 29 – watch the bulletin for more details.