FRIENDSHIP/FELLOWSHIP EVENTS
The following is a very partial list of opportunities to get acquainted with members and friends of Gloria Dei:
REGULAR EVENTS: We invite you to get to know the Gloria Dei Family through some of the monthly fellowship events. Some of the monthly events include: Camp outs, picnics, potlucks, Angels' games, progressive dinners, Christmas caroling, movies, theater, Hollywood Bowl, and more. Please click on the current newsletter for details.
UPCOMING EVENTS 2019:
Church Picnic at Dana Woods Park, Sunday, June 30th. 12:00-3:00 PM. Bring a side dish to share, dogs, brats, and drinks provided. Games for all ages. The pool is available for children, if they are supervised by their parents. Sign-up at the Welcome Table or call the church office (949) 493-3414.
July 1-5 (no VBS July 4th), Vacation Bible School 9:00 AM – 3:00 PM
Beach Party –

Sunday, August 18th, Doheny Beach anytime after 12 pm. Hot dogs and s'mores will be served at 5pm. Bring your own beach chair, drink and a side dish to share. Maps are available at the Welcome Table. Please sign up or call the office for details: 949-493-3414.
September 8th, Rally Sunday and Breakfast
September, Annual Church Campout
October 7, Blessing of the Animals, 5:00 PM Service
October 13, Oktoberfest sponsored by MGD (Men of Gloria Dei)
October 28, Reformation Sunday – Trick or Trunk 5:30 PM with In n' Out truck
November 18, 5:00 PM Thanksgiving Feast Pot Luck
December 9, Children's Sunday School Pageant 10:30 AM, Preschool Pageant 5:00 PM
WOMEN'S MINISTRY OF GLORIA DEI: The mission of the Gloria Dei Women's Ministries is to encourage spiritual growth and to develop lasting friendships among the women of Gloria Dei. Please see their site for the calendar and more information. There are all kinds of opportunities for women to grow in faith and friendship–Bible studies, retreats, fun outings, games, "Ladies Night Out," and much more. Please watch the monthly newsletter, the Sunday bulletin and patio signs for dates and more information. TheWomen's Book Group meets on the fourth Monday of each month for discussion on a preselected book (dessert and fellowship included!). Meeting time is 7:00pm. For more detailed information on all the Women's Ministries happenings at Gloria Dei, go to the Women's Ministry page on this website.
MEN'S MINISTRIES/EVENTS: The following are some of the events offered at Gloria Dei for men and their friends: Fantasy Football; Spring Training Trip to AZ; Men's Breakfast (2nd Saturday of each month, 8am); Campouts; Special Events/Speakers–Superbowl Breakfast; Pancake Breakfast; Book Club (last Tuesday of each month); Habitat for Humanity Projects; Running Club; Surfing Club; and much more coming…
The Men's Non-Serious Bridge Group meets the first Tuesday of each month from 6:30 to 10pm in the Fellowship Hall at Gloria Dei. All experience levels are welcome!
PRIME TIMERS (Seniors) is a fellowship group that has a full calendar planned for 2017. Watch the Bulletin for more information. They are planning dinners/outings/speakers and more on an every other month basis. You are welcome!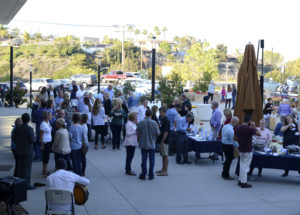 EMPTY NESTERS
(or nearly): This group gathers monthly for friendship and fellowship events at various homes and/or venues. If you have a child(ren) in college or out of the home, please join us. Check the newsletter for more details and dates.
YOUNG COUPLES (20s and 30s): This friendship groups meets regularly for dinner and other events. If interested, please speak with Pastor Sabrina about the next event.
COLLEGE/CAREER: Youth Director Paige Gulk leads this young, singles group. They meet regularly for Bible studies, social events, and service opportunities. Watch the bulletin.