MGD (Men of Gloria Dei)
The men at Gloria Dei are active in a variety of ways and times: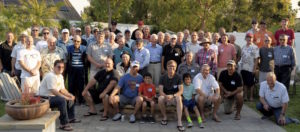 Fellowship

– campouts, softball leagues, beach parties, golfing, breakfasts, fantasy football leagues, Spring Training (Angels) Baseball "Retreat" (March 2020), Oktoberfest, etc.
Learning

– Men's breakfast Bible study is the second Saturday of each month at 8am. This study is led by Pastor David, with Chef Paul Dubow cooking the meal. All are welcome. For details, click here.
Service

– Habitat for Humanity, Families Forward, cleaning up around the church, etc. The Men's Ministry helps at Serra's Pantry on the third Saturday of each month (unloading food trucks, stocking shelves, etc.). Watch the bulletin for more details.
For more information, check the monthly newsletter or Sunday bulletin for a more complete list of current activities. Questions, call the church office or email: gloriadei@mygloriadei.org.
If you would like to be a part of the planning team for this coming year, please note that on the "Time and Talent" sheet.