EASTER SUNDAY AND HOLY WEEK AT GLORIA DEI!
HOLY WEEK SCHEDULE: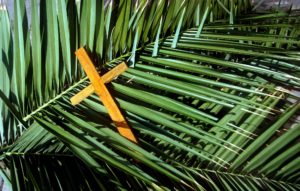 Palm Sunday (April 14, regular service times, First Communion at 10:00am) – our Festive worship will take place beginning outside the main sanctuary (weather permitting) at 8:30am, 10:00am, and 5pm. There will be palms, special music, and refreshments.
Maundy Thursday (April 18) – drop by for an individual meditation around beautiful artwork depicting the 14 Stations of the Cross. Location: Bankson Hall, between 9am-4pm. A guidebook will be provided.
Good Friday (April 19) – For many, this is the most moving and powerful service of the year. It is a "Tenebrae" Worship service, meaning darkening. The Sanctuary slowly grows darker as the Seven Last Words of Christ are read. Worship will be held in the main sanctuary, noon and 7pm. The Sanctuary Choir will sing at 7pm.
Easter Vigil (April 20) – Join us for an amazing concert, 7pm with the Wartburg College Choir. Click here for all the details. Baptisms will also take place before the concert at the baptismal fountain – join us as we celebrate this sacrament of beginning. For questions about holy baptism, please call the church office (949)493-3414.
Easter Sunday (April 21) Worship begins at 6:30am with Outdoor Worship at the Boulder Fountain near the main sanctuary; the 8:30am and 10:00am services will have choirs, trumpets, special music, and more. (No 5pm service on Easter). The "Eggstravaganza" hunt for young children will take place at 11:00am.
Join us for this celebration of hope with special music, refreshments, lilies, trumpets, and choirs.