YOUTH MINISTRY
(JUNIOR HIGH AND YOUNGER)
Gloria Dei is an inter-generational congregation and therefore offers events, activities, classes/friendship opportunities, and retreats for many different age groups and at many different times. Listed below are just a few of the regular activities, but please call the church office or see the monthly newsletter for a list of current event.
For your information, youth director Paige Gulck and other volunteers are responsible for the Senior High Youth Ministry; Pastor Sabrina Vasta and other volunteers coordinate the Junior High program; and Barb Collins and other volunteers are responsible for most of the younger children's programming.
For more information about your child and the journey of faith/milestones, click the following document. BAPTISM – MILESTONES
Younger Children (Preschool-5th)
There are many activities and learning opportunities for this age group including Sunday mornings, 9:15am and special events that are geared for the whole family: Vacation Bible school, Campouts, Winter Carnival, Camp, Summer Fun, "Eggstrvaganza", Trick or Trunk, etc. Also, "First Communion" classes are offered during the season of Lent each year. Please check the newsletter for upcoming opportunities or call the church office.
First Communion Classes
are normally offered for children age 10 or younger (speak with a pastor). There are three classes, plus one Saturday morning making a chalice. The chalice will be used at First Communion which is celebrated at the 10:00am service on Palm Sunday. See the newsletter for the details and sign-up on the patio. Questions, call the church office and speak with a pastor.
Vacation Bible School
is held during a week in the summer. That's a week for younger kids, but older youth always come out in droves and really are the leaders of this event. It's also a great way to get some volunteer hours.
Gloria Dei's very popular VBS will be held June 26th-June 30th from 9:00 am-3:00 pm. VBS fee for the week will be $95.00 per camper for Pre-K to 5th graders (sibling discount available). VBS will be staffed by Lutheran Retreats, Camps and Conferences (LRCC) and will focus on the theme
"This Little Light of Mine"
(Matthew 5:14-16). ​Registration will begin in May​. ​Volunteers also needed for this fun filled week. Stay tuned for more information. Questions-contact Barb Collins (s​undayschool@mygloriadei.org​)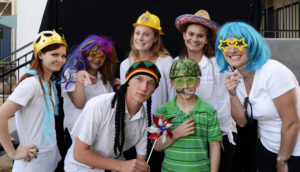 Junior High (6th-8th grade): Confirmation
This group meets regularly on Sunday mornings for our Confirmation Program. They also are involved with quarterly major events including: Youth Gatherings; Winter Retreat; Servant Projects; White Water Rafting, Houseboat Trips and more. This group is led by the pastors and Youth Director Paige Gulck and a number of great volunteers.
Junior High Fun Events

:

Each quarter, Junior High youth participate in a large, fun, usually recreational event – camping, retreats, water parks, house boating on Lake Shasta, amusement parks, etc. Watch the bulletin and newsletter for more details or call the church office. Friends are always welcome to join in on these extravaganzas.
All Ages Events:
Gloria Dei focuses on all generation type of events, such as Angels' Games, Whale Watching, Campouts, etc. Sign-up on the patio when you see something you are interested in attending.
Children in Worship

:

At Gloria Dei, children and youth are fully involved in the life of the congregation. We want children in worship. We do offer Sunday school (preschool-5th grade) during worship at the 10am service. Children go to Sunday school after the "Children's Message" and then return at Holy Communion. We also offer a nursery during worship for children who cannot yet sit still, but we do encourage parents to bring their children in with them. It is a process. With a little patience, a bit of humor and perseverance, all ages can say, "Our Father." As the pastor says regularly to parents of young children, 'I personally know the challenge! There may be some Sundays, no some years where you don't get much out of worship because of the squirming, etc. But God doesn't always mean for you to get something! Sometimes you are the sermon, a message of commitment, of consistency, of patience to your child. And before you know it, before too long, they will learn and then you can get something too!'