HECTOR OLIVERA IN CONCERT AT GLORIA DEI
Sunday, September 24, 2017, 4:00pm
This concert is sponsored by Gloria Dei Lutheran Church and the Los Angeles Organ Company to celebrate Gloria Dei's new three manual organ.
PIANO CONCERT – DAVID CLEMENSEN
Saturday, January 6, 2018, 7:00pm
David Clemensen will play the Bosendorfer Grand Piano in the Sanctuary –
To Celebrate the Day of Epiphany and "The Season of Light."
BAROQUE MUSICAL PERFORMANCE
Wednesday, March 21, 2018, 7:00pm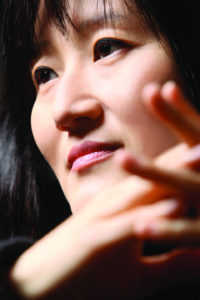 Harpsic
hordist JungHae Kim's playing has been described as "gallant and regal" (La Folia), "supple…impressive" (New
York Arts), emotionally exquisite, warm, and inviting. Ms. Kim holds a Bachelor's Degree in Harpsichord Perfo
rmance from Peabody Conservatory, and a Master's Degree in Historical Performance (Harpsichord) from Oberlin Conservatory. She completed her studies with Gustav Leonhardt in Amsterdam on a Haskell Scholarship, and holds an Advanced Degree in Harpsichord Performance from Amsterdam's Sweelinck Conservatorium. Ms. Kim has performed in concert throughout United States, Europe and in Asia as a soloist and with nume
rous fine historical instrument ensembles including American Baroque, Brandywine Baroque, Callisto, Musica Angelica, Musica Glorifica, Music's ReCreation, and Ensemble Mirable. She has also soloed with some of California's premier modern ensembles including the San Francisco Symphony and the New Century Chamber Orchestra. Ms. Kim has also performed on a number of music festival series including the Britt Festival (Oregon), the Assisi Music Festival (Italy), Music In The Vineyards (Napa, C
A), the Bloomington Early Music Festival (Indiana), The ChunCheon International Early Music Festival (South Korea), and at the Hawaii Performing Arts Festival. In 2011 she was featured on the Classical Odyssey television broadcast on the Korean Broadcasting System. In 2014, she performed a series of concerts on tour in South Korea with Callisto and Musica Glorifica. Ms. Kim's solo album of Suites and Fantasias by Bach is released this year.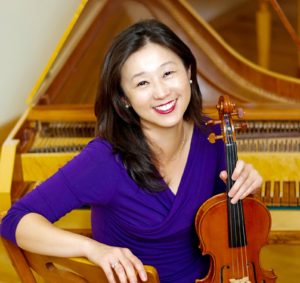 Kangwon Lee Kim is a versatile violinist with repertoire ranging from baroque to 21st century using both baroque and modern violins. She has given recitals throughout the U.S. and in Korea, Canada, Puerto Rico, Switzerland, Norway and Czech Republic, and the live recording of her performances have been heard on National Public Radio, WFLN in Philadelphia, and Wisconsin Public Radio. Ms. Kim has collaborated with world-renowned musicians including Menahem Pressler and Laurence Lesser, and during the summers, she has appeared at Banff Centre for the Arts, Aspen Music Festival, and at Token Creek Festival among others. As a baroque violinist, Ms. Kim has performed with the Smithsonian Chamber Players, Oberlin Baroque Institute Faculty Ensemble, the Wisconsin Baroque Ensemble, Brandywine Baroque, the Classical Symphony, Calisto in San Francisco, and the Baroque Band in Chicago. Ms. Kim was Assistant Professor in violin and chamber music at Biola University in CA and has also taught at Ripon College, the University of Pennsylvania, and Lawrence University Conservatory. Currently, she is the Assistant Artistic Director and concertmaster of Madison Bach Musicians and often plays solo and leads the ensemble. During the summer, Ms. Kim teaches at Credo summer chamber music festival at Oberlin College. Ms. Kim lives in Middleton, WI with her husband and two sons and keeps an active teaching and performing schedule.