SUNDAY WORSHIP
The mission of Gloria Dei Lutheran Church and Preschool is to reflect God's hope!
We experience God's hope through celebration (worship), connection (to Jesus and one another), and compassion (service). Gloria Dei is about all those things. Everyone is welcome. Please join us!
DEI-LY UPDATES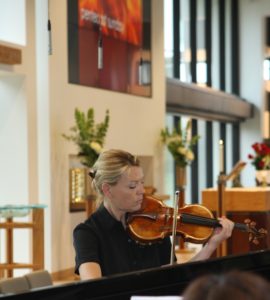 Sign-up to receive dei-ly news – all things church related…
CLICK HERE if you would like to receive weekly updates and information related to Gloria Dei straight to your email. It's a simple process and only church related "dei-ly" updates will be sent your email.
SUMMER THEME 2018
Selah–

Pause, Breathe, Love (The Psalms).
The word selah, which occurs in the Psalms, most likely refers to a musical interlude or pause. Summer is like a pause or needed rest. May the Holy Spirit cause us to pause, renew, worship and then empower us for loving service in Jesus' name.
Check out other particular activities below and join in!
PRESCHOOL Graduation Ceremony is May 30th at 5pm in the Sanctuary.
MEN'S BBQ – Saturday, June 2, 4:00pm, $10 at Jim Bankson's home (3816 Diamante, San Clemente) – All guys are welcome! Grab an invite and sign-up at the Welcome Table.
BACCALAUREATE – Our service celebrating high school graduates will be Sunday, June 3. Any graduating senior, please fill out the form on the Welcome Table and return it to the church office.
SOUTH COAST SINGERS – Saturday, June 16, performing "Feeling Groovy" in Sanctuary at 4pm. Cost: $10 – $20. Pick up a flyer at the Welcome Table or call the office.
WOMEN'S BEACH GLASS EVENT – June 23 at 10:00 am. Women and girls (10 years and older) are invited to learn how to make jewelry from sea glass. $10 for one piece of jewelry, $15 for two. Bagels and coffee will be provided. The event will take place in the downstairs courtyard. Sign up.
VACATION BIBLE SCHOOL (VBS) – June 25th-29th, 9am-3pm. 5 year old – 5th grade. Fee – $100 (Members receive 25% off, so $75). Registration forms available at the Welcome Table. Volunteers needed as well.
CHURCH PICNIC
– June 24, 12 pm, will be held at Dana Woods Park. Details. Sign up coming in June.
Gen2Gen
We had a wonderful Giving Celebration on Saturday, April 28 – Dinner, Bishop Taylor spoke, carnival games and "Bubbleology" for kids, and entertainment for all. The Gen2Gen (Generation to Generation) program begins with the following goals: To become debt free; to enhance new ministries, and finish off campus projects (including a columbarium).
33501 Stonehill Drive Dana Point, CA 92629. (949)493-3414.
Email: gloriadei@mygloriadei.org