RESPONDING TO THE COVID-19 PANDEMIC AND OPENING UP…
Due to the pandemic, the guidelines related to Covid-19 are very fluid and changing regularly. Please contact the church office (949)493-3414 for the most current information.
Gloria Dei Lutheran Church closed physically for several months – worship went online and many ministries have been fundamentally changed because of the pandemic.
But Gloria Dei is gradually and safely opening up for public events, worship, school, and other ministries. Gloria Dei's Council has developed the following procedures following the guidance of our bishop and local and federal guidelines.
As of April 2021, all of Gloria Dei's church staff are vaccinated and a very high percentage of our members are already vaccinated.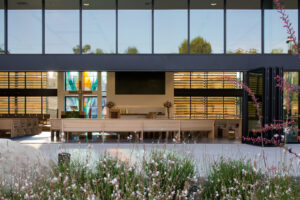 When we gather, we will follow all safe hygiene protocols encouraged by the Center for Disease Control (CDC). We will also continue to livestream our worship services.
Thankfully, Gloria Dei's worship space is designed with great flexibility. In other words, there's a lot of room to spread out and physically distance for safety. When you attend, simply look for a bulletin/program and sit there. At this time, they will not be passed out.
Community groups, 12 step groups, and other ministries are invited to come back to Gloria Dei, once their safety plan has been approved. Please call the church office for details (949)493-3414.
WORSHIP – Currently the

8:30am,10am and 5pm

services are inside, outside, and live-streamed.
Also, o
ur FM radio station will be broadcasting to the parking lot for those who would like to come and be on the church grounds.
Other details: Of course, please do not attend if you feel ill or are in an "at risk" group. We want everyone to be well!
All attending will wear face coverings inside, regardless of vaccination status and keep physical distance (6 feet).
Again, the good news is we have a worship space which can be turned into an outside venue and there's plenty of room, with good sight lines, and excellent sound. If you plan to sit outside, there will be chairs, but you are always welcome to bring a beach/lawn chair and some shade. You will love it! Bulletins/programs will be placed on chairs or you can pick one up at the Welcome Table. At this time, ushers will not be passing them out.
More information will be coming as we receive guidance from our bishop. This will be a work in progress.
We remember Martin Luther's words on freedom and love of neighbor:

"A

Christian

is a perfectly free lord of all, subject to none. A

Christian

is a perfectly dutiful servant of all, subject of all, subject to all."
Why do we go through all this careful planning, thoughtful preparation, and sincere concern over safety? Certainly not for ourselves alone, but for the love of the neighbor, and our most vulnerable members. In a word, we do this because it's a clear expression of our love for others. We want everyone to feel safe.
Thankfully, the Christian faith is never closed because God's Spirit works through the people. We will get through this pandemic and ministries will most certainly expand and flourish according to God's will.
For more information, please contact the office: 949-493-3414.